Main Content Starts Here
Adrianna A.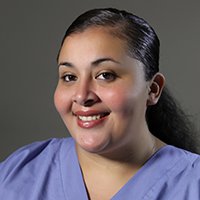 Adrianna A.
Medical Office Administration
I love helping people which is why I got in the medical field. It just brings me joy to help somebody. My passion is people. I am just a people person, people oriented, I all about making somebody just smile and just impacting their day, that just brings joy to me.
We didn't really come from a family of college grads or anything like that, so here I am graduating from college, everybody is overjoyed. My daughter is now thinking about what she wants to be in her future and is really giving it thought, and my fiancé is like, go further, you can do it, take it as far as you can, and I plan to; this is just a stepping stone.
Additional Testimonials in Healthcare / Medical