Main Content Starts Here
Ashley J.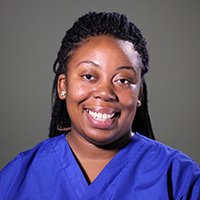 Ashley J.
Medical Assisting
I wanted to change my career because I wasn't growing and I wasn't getting anywhere.  I was working long hours and I wanted to better myself.
Right now I'm a medical assistant and I work with inner city children and I go to different schools and I test the children to make sure that they are being able to hear and see.
I chose Fortis because this school was the best fit for me.  I was able to get hands-on training, I was able to ask and talk to my teachers one-on-one when I needed help.
My Fortis education has made a big difference in my personal life; it showed me where I once was weak and now I'm strong in a lot of areas.  It also showed me that whatever I'm going through or whatever problems I may not know I can work hard and study hard and I can get what I need.