Main Content Starts Here
Benita B.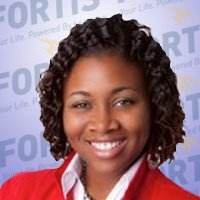 Benita B.
Dental Assisting
I decided to come back to school to get additional education credentials that would open up new career opportunities for me. I have had good jobs previously but they were not career-based and I believed that a Dental Assistant course would set a better basis for my future.
I saw a TV commercial for the Dental Assistant program at FORTIS College and applied and was admitted. The program was eleven months which was important – to be able to get to work quickly through a career program and not be in school for too many years before being able to work and earn income in the field of training.
My experience with the Dental Assistant program at FORTIS College was wonderful. The instructors were friendly and knowledgeable and their open-door policy made it a very positive experience. The six-week class module structure also kept things interesting and challenging.
I am proud of myself for sticking with the course and for graduating. It has been a busy time with three children, class and homework but it all worked out. I was hired from my program externship and am enjoying my time as a qualified Dental Assistant.
Additional Testimonials in Dental