Main Content Starts Here
Chloe D.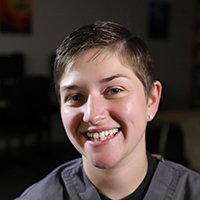 Chloe D.
Massage Therapy
Before attending Fortis I would just work in basic jobs trying to find out what I was going to do with my life.
I chose massage therapy because I have a huge passion for helping people for sure and I felt that that was the best way to do it.  
I work for a chiropractic office which has been an awesome experience so far and I assist the chiropractor with the patients as far as like stretches and modalities, anything they need to get out of pain really.  
I am now for two and a half years been a licensed massage therapist.  It has made me realize there is more to life.  Once you set your mind to something you can definitely do it, they taught me that for sure.