Main Content Starts Here
Collier M.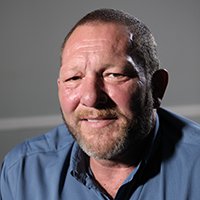 Collier M.
Heating, Ventilation, Air Conditioning and Refrigeration Trades
I chose for a couple of reasons, one is my daughter graduated high school and she wanted to go into the medical field and so she and I joined together and every day we kept each other going and she graduated and I graduated and we both ended up with great jobs. So it was a great choice.
With both her and I going to school at the same time it was very interesting to say the least. We would pull up in the parking lot first thing in the morning and I would go over her test with her and she would go over mine with me. I learned a lot about anatomy, the course she was taking and she learned a lot about HVAC.
It is never too late, never too late to get a better education or more education. I just want people to know that you can teach an old dog new tricks.
Additional Testimonials in Skilled Trades