Main Content Starts Here
Crystal C.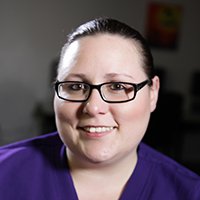 Crystal C.
Associate Degree in Nursing
I wanted to be a nurse because I want to save the world and it's a big dream, a very big dream, but where I grew up and where I have traveled to I have seen a lot of poor neighborhoods that did not have access to very good healthcare. 
Right now as a registered nurse I have three jobs.  I work an acute care hospital, I work for a long term care facility and I do contract work for flu clinics and vaccination clinics in my area.  What I enjoy most is actually the vaccination clinics because what happens is it is part of my dream. 
It goes back to helping people who otherwise can't afford or do not have access to healthcare that they deserve.

Additional Testimonials in Nursing