Main Content Starts Here
Dominique S.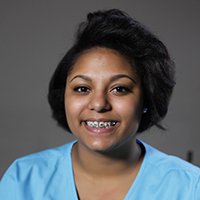 Dominique S.
Medical Assisting
Actually I came to Fortis College straight out of high school, so I was about 18 years old when I first attended college. I finished when I was 19 years old. So I wasn't really doing anything special, I decided that doing something at Fortis was the best option for me.
I wanted to become a medical assistant because I wanted to do something in the medical field and becoming a medical assistant is going to be your foot in the door for different options.
With me I was lucky enough and blessed enough to get hired on after my extern and the pay is great to me, I love it. It was well worth going to school the ten months I went to school. To me it was worth it.