Main Content Starts Here
Ivi A.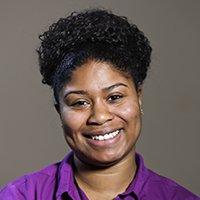 Ivi A.
Medical Office Administration
I am originally from Richmond, Virginia. I came down here because my spouse is Navy and I've always wanted to have a career as a medical administrative assistant, so I went ahead and enrolled in the program.
I like to deal with a lot of paperwork, making phone calls; I just like doing administrative work.
The education I received has made my career a lot better because I have a lot of opportunities that I would not have before if I didn't apply here and graduate.
My personal life has been changed 360. I have more free time. I can spend the time with my son, I don't have to work weekends. I love it, I love my career.
Additional Testimonials in Healthcare / Medical