Main Content Starts Here
Kandice M.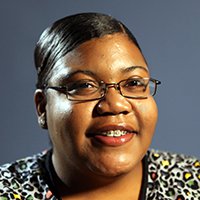 Kandice M.
Medical Assisting
Fortis College made a difference in my personal life because I can show my children that whatever you want to do, if you put your mind to it, you can do it. It just takes a lot of encouragement, patience and time to be able to do that. And, also, in my career or professional life it's helped me to be able to move up and try different things.
I would like people to know that I am a very kind, respectful, responsible young woman and I am there to help others and I'm just a joyful person to be around.