Main Content Starts Here
Meriah N.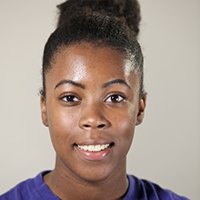 Meriah N.
Medical Assisting
I chose to attend Fortis Institute because I had run into a couple of people that graduated and they were like hey, you know, I went to this school, I did a nine month program.   
Our class was a pretty small class; it was really manageable.  We did have a diverse group of people, we even had a guy student in our class; you don't really see too many guys that go for medical assistants.  
Right now I am working at a clinic.  More of the days of the week I help with vitals. I do intake, help with massage therapy right now.  And physical therapy is probably like my favorite part of working there, I get to help people.  
My mom is extremely proud.  She's happy that I went back to school and continued my education.  She wants me to keep going.  She's like don't stop here.  Go back in school, get another degree, get some more certifications, keep reaching for the stars.
Additional Testimonials in Nursing