Main Content Starts Here
Berta G.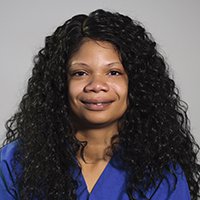 Berta G.
Medical Assisting
I love working with people and from working in nursing homes and being around elderly people, I have a passion for working with people.
Well, now I work in my field. I am a medical assistant at a doctor's office and I enjoy, I enjoy being around people. I love to help people.
My children think I'm awesome. They say I'm awesome for going back to school, for working in the medical field. They enjoy it cause now if they are sick mommy can help them.
To them they see that no matter how old you are or where you are, you still can go to school and achieve anything you want to.