Main Content Starts Here
Craig W.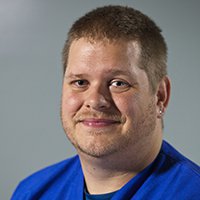 Craig W.
Phlebotomy and Laboratory Assisting
I have wanted to be in the medical field for about ten years now but it was hard to get in most of the programs because they were during the day and I had to work. So then I came to Fortis because they had affordable prices and night classes.
Right now I work for one of the bigger hospitals in the area. I enjoy the day to day interactions with people and knowing that I am making a difference in their lives.
The Fortis I went to was the one in Forty Fort, Pennsylvania and I was in EPLA which was phlebotomy and EKG.
Career Services was probably the biggest part of getting me the job at the hospital. She helped me with my resume, sending it out and giving me some interview tips.
I decided to come back to school for the medical assistant technician program to get my associates degree and having that more training will actually let me do more for people.
Additional Testimonials in Nursing