Main Content Starts Here
Keith M.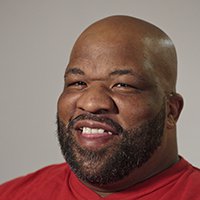 Keith M.
Electrical Systems Technician
Before I attended school I was in the retail field doing merchandising, setting up new stores all across the country and traveling.
I decided to come here to Fortis because I spoke with a couple of other schools and I actually liked the curriculum and the way Fortis was set up.
When I was going to school I was working second shift so I was able to go to school in the morning full-time and it worked out fine.
Because I'm home now I actually enjoy it because I get to spend more time with the family 'cause like I said I am a family man. It's family first, family over anything.
The most influential people in my life has to be my mother, my grandfather, my grandmother 'cause they always told me if I work hard I could do anything I want. They're just proud of me. They think I'm a success now.
Additional Testimonials in Skilled Trades