Main Content Starts Here
Malcolm C.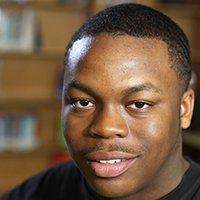 Malcolm C.
Medical Assisting
My education has made a difference particularly it got me ready for what I was going out in the field to do.
They are not giving you…not feeding you with a spoon, you have to go out and actually earn it on your own. So it kind of helped me prepare what I was going to.
Those people who have been important in my life are pretty much my parents, grandparents, advisors throughout the years. Reason being is they always helped me get to the goal.
I would want people to know that I am very dedicated and hardworking.
If you give me a task I am going to find a way to complete the task even if I don't know the information you are giving me I will find out what the information is. So it is pretty much if you give it to me I am hardworking, I am going to make sure I get that task completed.