Main Content Starts Here
Brooke A.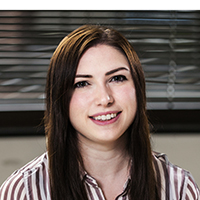 Brooke A.
Associate Degree in Nursing
Since I was younger I've always just had a passion of wanting to help people, wanting to be there with people and I found Fortis and loved kind of the structure and just decided to go for it. 
Cause it's smaller, definitely the class sizes are smaller and I feel like it's really important to have that one-on-one with the instructors.
You're here with them, you know, throughout the program and they're there whenever you need them, nights, weekends, if you were struggling I felt like I could contact them at any time and they were always there for me.
You know, if you have a goal in mind and you really work hard to achieve that goal you can set your mind to anything you can do it. 
Compassion is all of what a nurse is.  You have to love people. 
It shouldn't be a job.  It should be a passion of being there and caring and being compassionate and wanting to help.
Additional Testimonials in Nursing