Main Content Starts Here
Raul R.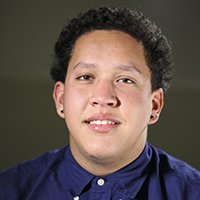 Raul R.
Pharmacy Technician
I was born in the Dominican Republic. Honestly, right now I've been starting with my pharmacy career. It has been about eleven months now. 
Honestly, since I was a little kid my grandma always took medications and I always had like curiosity on what medications were used for. 
Working at a pharmacy is actually a very good job. It pays off in the long run and I just like dealing with customers. 
I'm actually 20 years old, but I'm very dedicated and even though, you know, I have a kid face and I smile a lot and everything, I'm a man and I'm very hard working. I just want everybody to know don't let this face fool you, when it comes down to reality I'm there.