Main Content Starts Here
Cindy R.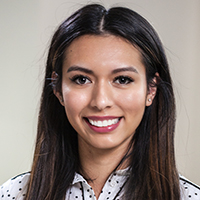 Cindy R.
Dental Hygiene
I knew I wanted to find something to do early on that was going to help me succeed in my life and at first I started off as a dental assistant and knew I wanted to do more.
I wanted more compensation and a dental hygienist allowed me to do all those things as well as working more independently but still as a team with a dentist and the office.
I'm currently working as a dental hygienist at a pediatric office. 
To use my skills and help younger people, younger children from 0 to 18 and their parents and caregivers learn how to take care of their mouths from the start.
I chose Fortis because it allowed me to work with my schedule.  It was nearby to my home, easy commute and I had learned that the teachers were great and would prepare me for my future.
People told me that I couldn't do it and I went ahead and I just did it because I knew that I could and no one was going to stop me.
Additional Testimonials in Dental