Main Content Starts Here
Jeff L. (2)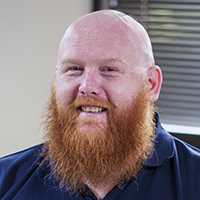 Jeff L. (2)
Associate Degree in Nursing
I attended the Fortis College in Salt Lake City, and my major was nursing.
How am I going to spend time with my family if I'm in nursing school and I'm working full-time? But the way the classes were set up I had plenty of time and my kids learned a lot. 
The career services was really, really good at communicating what jobs were available and what kind of employers were looking for. 
The education and knowledge that I gained from Fortis College was just…like I said, it's hard to explain just how much I can use on a daily basis.
The hours that I work are a little bit different and I work less days and so I'm able to spend a lot more time with my family.   I'm able to watch my kids grow up and watch them play sports and all that different stuff.  So not only financially does it help but, I mean, just in general having mmore time with my family benefits as well.
Additional Testimonials in Nursing