Main Content Starts Here
Sydnee T.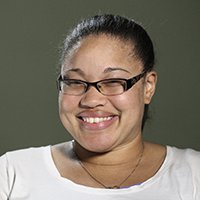 Sydnee T.
Medical Lab Technician
I had recently finished my dissertation and I wasn't able to find a research or teaching position immediately so I decided to go ahead and pursue another passion, and I decided to go ahead and be a lab tech; and Fortis started fairly quickly, so I went ahead and pursued that dream.
Fortis had a start date for me in February of 2014.  And it was convenient because I wouldn't have to quit my job; I could work and go to school.  
Two of my instructors were very influential in my education.  They were the primary instructors at that time.  They made sure we had real world experience.  
My education from Fortis has given me a better quality of life.  I no longer am dragging to work and dragging and dreading the day.  I enjoy what I do. It's given me an avenue to fulfill my destiny.  So, I am grateful.