Main Content Starts Here
Tinesha D.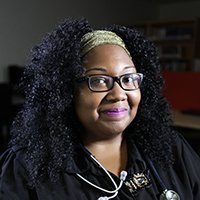 Tinesha D.
Associate Degree in Nursing
Before I attended Fortis I was a certified nursing assistant at a local nursing home for eight years, kind of encouraged me to be a nurse.
Currently I am clinical manager at a local hospice company and it is a fairly new position for me. Collaboratively we ensure that people are comfortable in their final days that they their wishes are honored.
My daughter thinks that number one I am rich; she immediately wanted us to move on the beach in a condo as soon as I finished school.  But I think she realizes what I did and what I went through. She talks about being a nurse and she realizes that is a tough job.  She can't understand why I work so much because she thought that once you go to school you work less and make more, but that is not it.

Additional Testimonials in Nursing